There is plenty to see and do during your stay at Old Harbor Inn, and you are in the center of it all! Old Harbor Inn is walking distance to everything downtown, boutiques, galleries, antiques, restaurants, and nightlife. You are also walking distance to beaches, sunsets, the Marina District Harbor Walk, the KalHaven Trail and more. Or stay put and enjoy your panoramic of the harbor from your room, many with private balconies, or from one of our many decks.
Right Outside Your Door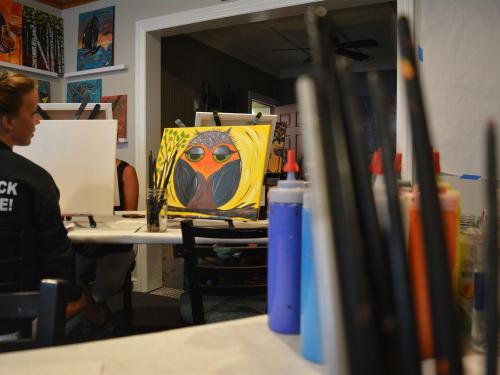 Old Harbor Inn sits within the quaint confines of Old Harbor Village. Right outside the front door is Tipsy Brush Studio, inside Channel Wine Bar, where you can create the next masterpiece. Daylily, featuring unique giftware, is just past that. Following the boardwalk across the courtyard, you'll find Harborwear, with tons of South Haven gear. On the ground level, in the courtyard area are Ballock's Bar & Grill, Warner Vineyards Tasting Room, Flamingo Island T-Shirt Shop, and two jewelry boutiques, The Black Pearl and The Perfect Setting.
You Could Also...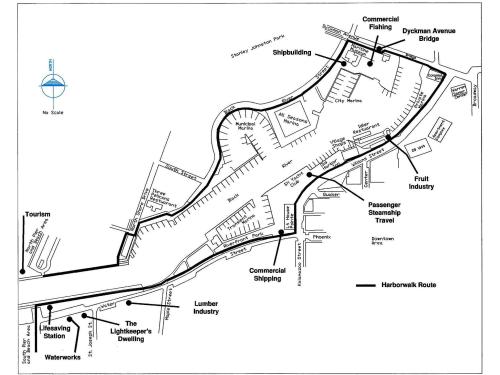 Take a stroll on the Harborwalk through the Maritime District - It starts at one lighthouse and follows the river towards the drawbridge, then back up to the other lighthouse.


Enjoy a fresh margarita and tasty burrito on Su Casa's deck.


Grab a coffee to get your day started at Eclectic Cafe.


Charter a private fishing or cruising excursion.


Take in the latest blockbuster at the Michigan Theater.


Or relax on your private deck and watch the river float lazily by.
Within Walking Distance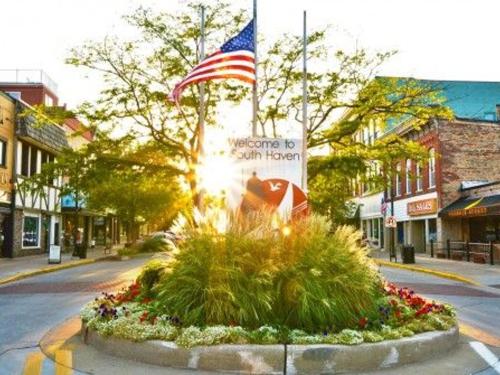 Downtown South Haven, a block from our front door, is full of shops, restaurants, and galleries to meet the vacation needs of anyone in your group. You'll find shops devoted to your favorite four-legged friend; specialty shops featuring blueberry products, olive oil selections, and handmade chocolates; and if you forgot your bathing suit or need a gift for someone who didn't make the trip, Downtown South Haven's got you covered.


Get your laugh on at Comedy Night at BRT every Saturday night.


Grab some lunch from The Depot or Northside Memories and head over to Stanley Johnston Park for a picnic.


Visit the Michigan Maritime Museum, home to South Haven's own tallship, Friend's Goodwill, for a sunset cruise.


Kayak the Black River - See Outpost Sports for Rentals


Cruise through town on two wheels for a more leisurely experience - See Rock'n'Road or Outpost Sports for Bicycle Rentals


Take a kiteboarding or paddle boarding lesson from the crew at SoHa Surf Shop (Yes, you can find surfers at our beautiful beaches!)


Peruse the featured art at the South Haven Center for the Arts.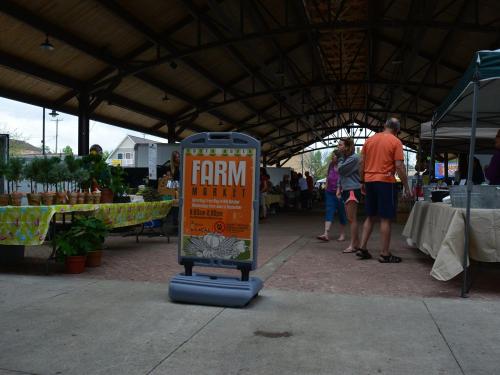 The Pavilion at Dyckman Park may look like just an ordinary parking structure, but on Saturdays and Wednesdays in the summer, it plays host to a large collection of local farmers, craftmakers, and purveyors for the South Haven Farmer's Market. In the winter months, the Pavilion is transformed into an exciting ice skating palace. With bright lights and fun music, along with skate rentals available, the South Haven Ice Rink is popular stop among tourists and locals alike.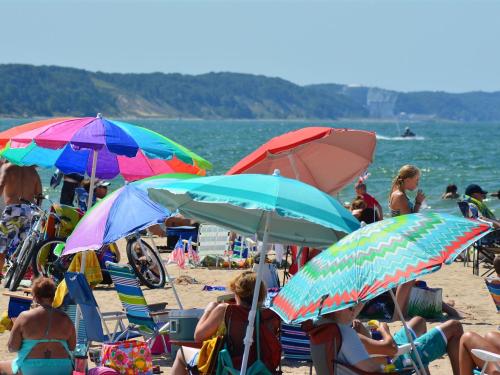 South Haven's beautiful sugar sand beaches are one of our most popular attractions. Stretching further than the eye can see, our coastline is dotted with many different beach access points to give you many options when choosing a place to plop down the chair and watch the surf roll in.
Just Outside of Downtown
Feeling adventuresome? Hop in your car or on a bike and exlpore the destinations just outside of downtown South Haven:
Within an Hour's Drive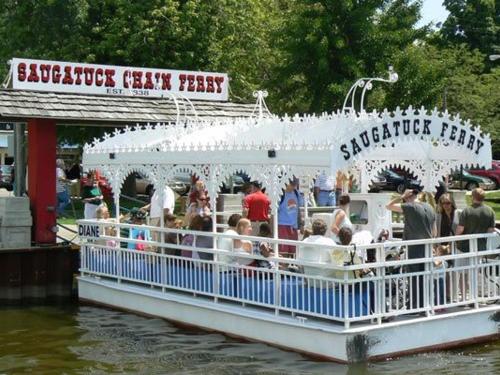 Saugatuck/Douglas, MI, is a pair of towns seated just off of Lake Michigan, nestled up to a favorite stop, Mount Baldhead. Linked to Mount Baldhead by a network of Dunes is Oval Beach, often named in top ten beach lists throughout the country. Historically an arists' community, you'll find dozens of quaint galleries, along with many shops and eateries. The chain ferry, a rare site these days, is also available for a short trip across the river.


20 Minutes North on I-196 or Bluestar Highway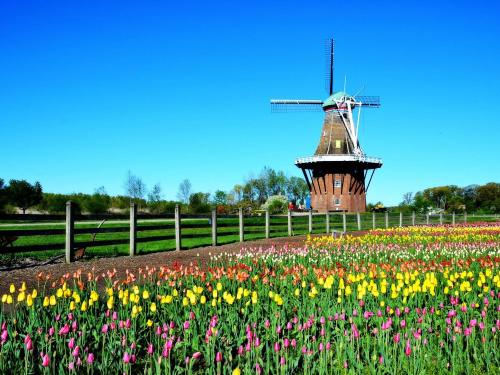 Holland, MI, was founded by Dutch Americans and has retained much of its orginal heritage. Just like it's namesake is famous for, Holland plays host to Tulip Time, featuring a parade, carnival, and more, every spring. Windmill Island and Nelis' Dutch Village also pay homage to the homeland of it's founders. Downtown Holland also offers many different shops, restuarants, galleries, and more. Not to be outdone by Beer City USA (see below), Holland is home to New Holland Brewery.
30 minutes North on I-196


Lakeshore Harvest Country - Scattered between South Haven and Fennville, there are many artists, farm markets, wineries/cider houses, antique purveyors and more. Known as Harvest Country, you can pick blueberries, sample wine made from locally harvested grapes, score a vintage find, and stop by the lake for a quick photo op, all on the same trip. Start planning your day here.
All within 1 hour.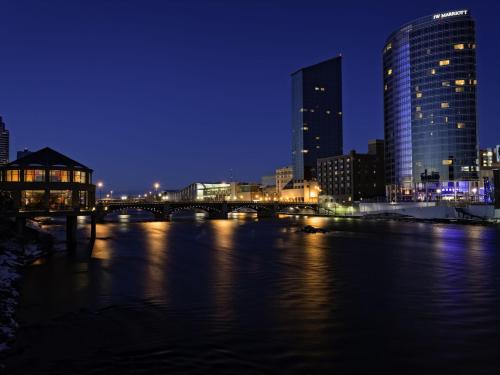 Grand Rapids, MI, known as Beer City USA, is home to many different brewries, brew pubs, and bars/restaurants catering to a taste-making crowd hungry for craft brew and food. Also, quickly becoming an artist's city, Grand Rapids not only has many museums featuring local and world-renowned exhibits, but you can also attend Art Prize in the fall. Just oustide the city is the breathtaking Frederik Meijer Gardens.


1 hour North on I-196
Breweries, Ciderhouses, Wineries, and Distilleries - Within an hour, and maybe a bit further if you're adventurous, you'll find many wonderful craft beverage makers. From a ciderhouse founded by the former Brewmaster at Goose Island Brewery to an award-winning locally vinted wine collection with rolling hills to tour, we're sure you'll find a spot to wet your whistle!